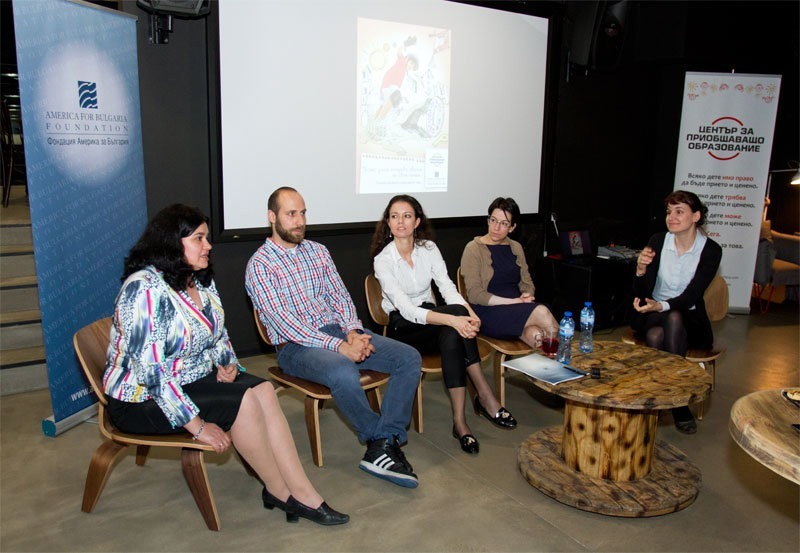 Centre for Inclusive Education Unites Children, Parents and Teachers to Show What the School Environment Should Be
The campaign Days of inclusion 2016
started on April 11 and will continue to the end of June.  Teachers, Parents and Children are engaged to show good inclusive practices. The initiative of Centre for Inclusive Education is part of "One School for All" programme.    
The team of Centre for Inclusive Education with the support of
America for Bulgaria Foundation
has been working for two years with five partner schools to develop the Bulgarian model of inclusive school environment, which could be applied in all schools in the country.    
"The inclusive education is the qualitative education, which ensures and guarantees supporting school environment for all children, teachers and parents, so they feel welcome, valued, supported and successful. This is the education, which does not split children to any signs and takes care to teach, socialize and develop the opportunities for all children", shared Iva Boneva, Executive Director of Centre for Inclusive Education.  
Natalia Miteva, Program Director Education and Libraries at America for Bulgaria Foundation added: "In every classroom there are children who learn in a different way and are at different levels, with different talents, interests. One teacher should not only cope with their challenges, which are different, but should take care every child to learn effectively and to realize its best potential and to progress in his own way."  
National competitions for essays, drawings and inclusive practices, school games and workshops will engage children, parents, teachers and experts from all over the country to create under  the themes of inclusion and to think over the meaning all children to smile, to respect, to be happy of themselves, to self-develop, to be friendly.  
Maria Sandeva, Principal of one of the five partner –schools 202 Hristo Botev  Primary School, Dolni Pasarel explains hers and her colleagues motivation with the words: " We participate actively in the Days of Inclusion 2016, because we believe in the vision that inclusive education is the innovative education, through which teachers improve their skills constantly and aim to execute models and practices, which help children to learn effectively, to gain new knowledge and skills as well.  
The patronal feast of 202 Hristo Botev PS will be on June 2 and will be one of the school events, which will show examples of inclusive practices and results of their application.  
The other four are:  
- 171 Stoil Popov Primary School, Novi Iskar (April 14);
- St. Kiril and Metodiy Primary School, Botevgrad (April 15);
- 104 Zahari Stoyanov Primary School, Sofia (May 4);
- Vasil Levski Primary School, Pravets (June 1).  
Final event will be organized on June 23 in Sofia, when the competition winners will receive their awards and the successful school year end will be celebrated.  
Events' programme, information for the competitions and details on Days of Inclusion 2016 are available on: priobshti.se