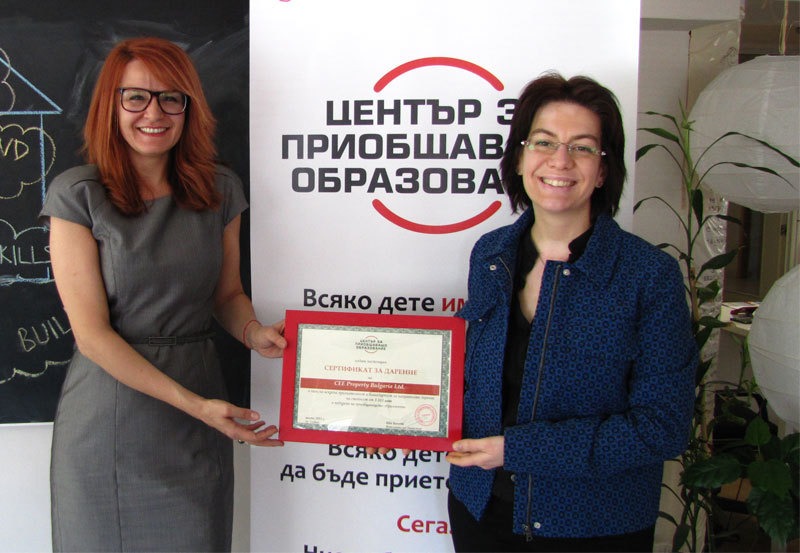 Liliya Krasteva, executive director of CEE Property Bulgaria Ltd. and Iva Boneva, executive director of Centre for Inclusive Education
Centre for Inclusive Education received donation of 1667 BGN from CEE Property Bulgaria Ltd., part of S IMMO AG Austria and owner of Serdika Mall and Sedika Offices.
 
А campaign to virtually build a Christmas village was organized for second consecutive year. CEE Property Bulgaria Ltd.' clients and customers had the opportunity to build houses on a specially created online platform. Each of them corresponds to 10 BGN, which the company donated. The company chose to donate the money to three initiatives: Leaders of the Natural Sciences Olympic Teams Association, Fortissimo Class and Centre for Inclusive Education.
 
The received funds will support our work more children to learn and play with their peers, to develop their talents, to achieve their dreams and to be happy.
 
CEE Property Bulgaria Ltd. provided also in December 2015 free advertising space in its office building to promote the fundraising campaign "Jivko the Giraffe Helps Children With Learning Difficulties Who Had Spent Their Early Years in Institutions" and the book "The giraffe, who did not fit in the book".
 
Thank you!